My coworkers and I try to get together after work every now and again to destress and connect outside of the hospital. I hosted my first gathering at our place last night and it was really fun. In preparing for it, I made Chipster-Topped Brownies and Spinach & Artichoke Dip Stuffed Mushrooms. Both were so yummy!
Spinach & Artichoke Dip Stuffed Mushrooms
(
http://eatingwelllivingthin.wordpress.com/
)
20-25 crimini or white mushrooms
4 ounces (1/2 pkg) reduced-fat cream cheese, softened
3/4 cup Hellman's Light Mayonnaise
One 14-ounce can artichoke hearts, sqeezed to remove excess liquid and finely diced
1 cup frozen chopped spinach, thawed and squeezed dry
2 cloves garlic, minced
1 teaspoon granulated sugar
1 cup freshly grated Parmesan (not shredded – the powdery fresh from the deli/cheese case)
Pinch cayenne pepper
Preheat oven to 350 degrees. Wipe mushrooms clean; remove stems and gently scoop out the gills to make room for the filling.
In a large bowl combine the cream cheese, mayo, diced artichoke hearts, spinach, garlic, granulated sugar, Parmesan, and cayenne. Fill each mushroom cap with 1 tablespoon of dip mixture. Place on a baking sheet (with sides, as the mushrooms will release liquid) and bake for 15-20 minutes, or until mushrooms are soft and the filling is golden. Serve warm. Makes approx 10 servings of 2 pieces each.
This is the 2nd time I've made this dish. The first time was amazing! This time, the mushrooms were a bit soggy and I added an additional 1/2 clove of garlic. It was a little too much garlic (and I never say that). I find that using the handle end of a spoon works best for scooping out the mushrooms.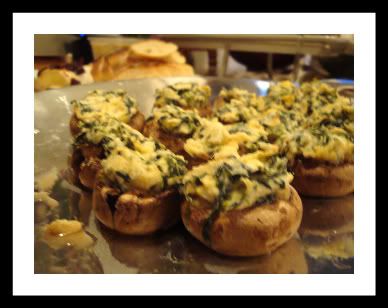 Chipster-Topped Brownies
(original recipe by Dorie Greenspan Baking: From my Home to Yours)
For the Brownie Layer:
6 ounces bittersweet chocolate, coarsely chopped
3 ounces unsweetened chocolate, coarsely chopped
2 sticks (8 ounces) unsalted butter, cut into chunks
1 2/3 cups sugar
4 large eggs
1/2 teaspoon salt
1/2 teaspoon pure vanilla extract
1 cup all-purpose flour
1 cup walnuts, coarsely chopped
For the Cookie Layer:
1 1/4 cups all-purpose flour
1/2 teaspoon baking soda
1/2 teaspoon salt
1 1/2 sticks (12 tablespoons) unsalted butter, at room temperature
3/4 cup (packed) light brown sugar
2/3 cup sugar
1 large egg
1 large egg yolk
1 teaspoon pure vanilla extract
6 ounces bittersweet chocolate, chopped into chips, or
1 cup store bought chocolate chip
Center a rack in the oven and preheat the oven to 350 degrees F. Butter a 9x13 inch baking pan, line it with wax paper or parchment paper and butter the paper. Put the pan on a baking sheet.
To Make the Brownie Batter:
Put both chocolates and the butter in a bowl set over a saucepan of simmering water. Stirring occasionally, heat just until the ingredients are melted, shiny and smooth. If the mixture get too hot, the butter will separate from the chocolates. Remove the bowl from the heat.
Working with a stand mixer, preferably fitted with a paddle attachment, or with a hand mixer in a large bowl, beat the sugar and eggs on medium-high speed for about 2 minutes, until pale, thick and creamy. Beat in the salt and vanilla extract. Reduce the speed to low and mix in the melted chocolate and butter, mixing only until incorporated. Scrape down the sides of the bowl with a rubber spatula, then, still on low speed, add flour, mixing only until it disappears into the batter. Using the spatula, fold in the walnuts, and scrape the batter into the prepared pan. Set aside.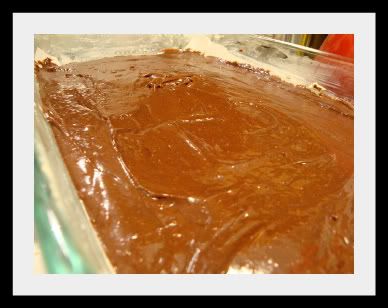 To Make the Cookie Dough:
Whisk together the flour, baking soda and salt.
Working with the stand mixer in the cleaned bowl or with the hand mixer in another large bowl, beat the butter and both sugars together on medium-high speed until smooth and creamy, about 3 minutes. One at a time, add the egg and the yolk, beating for 1 minutes after each addition. Beat in the vanilla. Reduce the mixer speed to low and add the dry ingredients, mixing only until they disappear into the dough. Still on low, mix in the chopped chocolate. Drop the cookie dough by spoonfuls over the brownie batter and, using a spatula and a light touch, spread it evenly over the batter.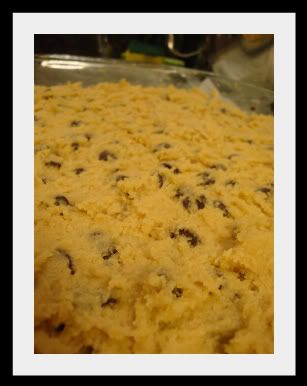 Bake for 50-55 minutes, or until the cookie top is deep gold brown and firm and a thin knife inserted into the brownie layer comes out with only faint streaks of moist chocolate. Transfer the pan to a rack and cool to room temperature.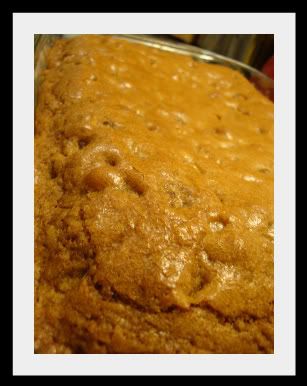 When the brownies are completely cook, carefully run a knife between the sides of the pan and the brownies, then invert them onto another rack, remove the paper and turn the right side up onto a cutting board. Cut into bars about 2 inches x 1 inch. (You can cut larger bars if you're serving cookie lovers with Texas-size appetites.)
I was extremely happy how these turned out! They were absolutely devine! I cooked them for the entire 55 minutes, the crust was a little crackly but that wasn't anything horrible and made for some yummy crumbs. I'm not really sure how to avoid the crust cracking like that. I did end up tenting w/foil to avoid the cookie layer from burning for the last 15 or so minutes.
Makes 24 servings.